ATLAS — an international paperback book[maga]zine of 'new writing, art & image' — is edited & designed by Sudeep Sen. It was launched in the UK/India in the summer/monsoon of 2006, and very quickly established itself as one of the leading international magazines of its kind.
ATLAS is published by Aark Arts and advised by an impressive panel of internationally acclaimed prize-winning writers & editors. It is available simultaneously from New Delhi, Mumbai, London, Oxford, Leeds, Brighton, Glasgow, Toronto, Cambridge, San Antonio, Palo Alto & New York.
Apart from carrying cutting-edge original and translated creative writing — poetry, drama, fiction & non-fiction, plus in-depth interviews & features — ATLAS also includes selected portfolios of artists, photographers & filmmakers.
Poetry by Patience Agbabi, Agyeya, Meena Alexander, U R Ananthamurthy, Zoran Anchevski, John Ashbery, Kaifi Azmi, Bengt Berg, Charles Bernstein, Malika Booker, Nicole Brossard, Amit Chaudhuri, Dilip Chitre, Alfred Corn, Adam Czernawski, Mangalesh Dabral, Bei Dao, Rana Dasgupta, Keki Daruwalla, Kwame Dawes, Imtiaz Dharker, John F Deane, Fred D'Aguiar, Tishani Doshi, Jane Draycott, Tarek Eltayeb, Zhang Er, Mirza Ghalib, Teji Grover, Gulzar, Michael Horovitz, Anjum Hasan, Kabir, Mimi Khalvati, Jyrki Kiishinen, John Kinsella, Arun Kolatkar, David Lehman, Herbert Lomas, Jayanta Mahapatra, Chris McCabe, Leeya Mehta, Hoshang Merchant, Christopher Merrill, Bryce Milligan, Carol Moldaw, Chung Hee Moon, Kim Morrissey, Les Murray, Amir Or,  Ruth Padel, Saleem Peeradina, Peter Porter, Richard Price, Jerry Pinto, R Raj Rao, Aminur Rahman, Shamsur Rahman, Tomaz Salamun, Fiona Sampson, K Satchidanandan, Ravi Shankar, Geetanjali Shree, Mark Strand, Arundhathi Subramaniam, Leonard Schwartz, Matthew Sweeney, Arthur Sze, George Szirtes, Pia Tafdrup, Rabindranath Tagore, Anand Thakore, Cai Tianxin, Atal Bihari Vajpayee, Ashok Vajpayi, Reetika Vazirani, Stephen Watts, Daniel Weissbort, John Welch, John Hartley Williams, Neshe Yashin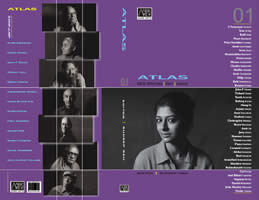 Fiction & Non-Fiction by Tom Alter, Peter Bradshaw, Priya Sarukkai Chabria, Sampurna Chattarji, Amal Chatterjee, Kiran Desai, Bernardine Evaristo, D W Gibson, Katherine Govier, Scott Haas, Cicely Havely, Peggy Herring, Paulette Jiles, Thomas E Kennedy, Tabish Khair, Charles R Larson, Suketu Mehta, Elise Moser, Sharmistha Mohanty, Tim Parks, Mani Rao, Owen Sheers, Tsur Shezaf, C P Surendran, Dennis Walder
Photography by Rafeeq Ellias, Bijoy Chowdhury, Bandeep Singh
Art by Abdus Shakoor, Jatin Das, Imtiaz Dharker, Saleem Peeradina, Heather Spears, Susan Ellenton, Meg Walker, Jane Rye
Interviews with Salman Rushdie, Anita Desai, Vikram Seth, Mahasweta Devi, John Ashbery
ATLAS has several publishing partners/patrons, both formal & informal — and discussions are in progress with many others — including: The British High Commission / The British Council, The Nehru Centre of The High Commission of India, Stanford University (USA), Embassy of Finland, Dutch Embassy, The Canadian High Commission, ProHelvetia / Swiss Embassy, Slovenian Embassy, India International Centre, The Inlaks Foundation, Peepal Tree Books (UK), Wings Press (USA), The South, Modern Poetry in Translation, Gallerie International, The Attic, Srishti, Star Publications, Variety Book Depot, Green Thums, Radnik, & others.
ATLAS publishes high quality work from both established and new writers & artists on the same platform. A substantial part of each issue also focuses on a specific country or region — Issue 02 is on 'Canada'; and forthcoming issues will be specials on 'Finnish' and 'Dutch' writing. Submission call is open for 'British', 'America', 'Australia', 'Israel', 'Slovenia', and 'Afro-Caribbean' special issues.
Atlas represents the first self-styled 'bookazines — its primary remit is to publish contemporary Indian writing … but it is as international as its name suggests. Contents prove enticing … making [its] mark in the margins.
— Travis Elborough in The Guardian
This book is a gallimaufry of literature the purpose of which is, in the words of its editor Sudeep Sen, "to present the best of Indian and international writing to India and the world." In this, it succeeds beautifully. …The collection opens with an interview with Salman Rushdie — It's an unexpected delight. … This collection contains many gems, from new translations [to] essays, short stories, and lush, disturbing illustrations. The poems tend to the darkly fanciful. …. A new, fiercely bright torch has been lit.
—Murrough O'Brien in The Independent on Sunday
Atlas is an impressive literary achievement, and one of the best-designed journals of its kind I've seen. The interior layout has a kind of Internet browsing interface feel to it — all seems contemporary and to hand. Exactly 400 pages in length, this is a high quality international journal punching in the Paris Review category. Do seek it out.
— Todd Swift in Eyewear
A world-class magazine that showcases the works of Indian writers as well as those of other countries …. Significantly, the works are not only originally in English but include translations from Indian and foreign languages …. Atlas, at last! … a steal of a collector's item.
— Anjana Rajan in The Hindu
Do we need another literary magazine? If it's Atlas, the answer's a resounding yes. … Atlas 02 features an interview with Salman Rushdie, … [includes] new translations of old gems of Tagore and Jibanananda Das's poems as well as contemporary poets, .… The prose in this collection is impressive …. And what is nice is the non-ghetto quality of this venture.
— Indrajit Hazra in The Hindustan Times
Speaking volumes…. New [writers] jostle the older, more established names in Sudeep Sen's Atlas, a literary magazine that functions as a grab-bag of delights.
— Nilanjana S Roy in The Business Standard
A new bookzine, Atlas … dedicated to good writing — [like] Granta and Paris Review — has rarely surfaced in India. [Atlas] features Indian and western writings, and is distributed in English-speaking countries … with a far more ambitious agenda. Atlas, no shrugs.
— Debashish Mukherji in The Week
Atlas … a compendium of international and Indian writing … a forum that serves as a meeting ground for Indian writers in regional languages and those writing in English … Rhyme with a reason.
— Nawaid Anjum in The Asian Age
Atlas bring[s] together the best of contemporary writing from India and abroad.
— Shalini Singh in The Tehelka
Atlas is devoted to high quality creative writing, art and image. It presents the best of contemporary Indian writing to the world and the best of international writing to India.
—  The Indian Express
A long-felt gap — yawning between books and would-be readers — filled with Atlas. A peek into literature's latest.
— Shinie Anthony on IANS

The Limca Book of Records 2007 features Atlas as an example of one of India's outstanding literary initiatives, a product representing "India at her best".
The Times of India newspaper & Platform  magazine chose Atlas as 2007 literarure "hot picks".
Harper's magazine (USA) featured work from Atlas in their celebrated 'Readings' section.
Associate Editors
New York
D W Gibson
Stanford University
Linda Hess
Saikat Majumdar
Aishwary Kumar
Copy Editors
Chris Brown 
Peggy Herring
Editorial Assistant
Madeline Haas
Founding Publishers
Sudeep Sen
R Sriram
ISSN
1758-325X
ISBN
Atlas 01 — 1-899179-79-8
Atlas 02 — 1-899179-78-X
Email
atlasaarkarts@gmail.com
Website
http://atlasaarkarts.net
Editor
Sudeep Sen
Board Of Contributing Editors
John Ashbery
Peter Bradshaw
William Dalrymple
Kwame Dawes
John F Deane
Donald Hall
Girish Karnad
Christopher Merrill
Les Murray
Naomi Shihab Nye
Ruth Padel
Peter Porter
Fiona Sampson
Mark Strand
George Szirtes
Shashi Tharoor
Daniel Weissbort
John Hartley Williams
Translation Editors
Dilip Chitre
David & Helen Constantine
International Editors
America: Charles Bernstein
Australia: John Kinsella
Austria: Ludwig Hartinger, Karl Markus Gauss, Fabjan
Belorussia: Volya Gapeeva
China: Bei Dao, Cai Tianxin
Croatia: Miroslav Micanovic,
Nenad Popovic, Boris Biletic
Cyprus: Neshe Yashin
Czech Republic: Milan Dezinsky, Bogdan Trojak
Denmark: Pia Tafdrup
Finland: Herbert Lomas
Germany: Norbert Wehr
Guyana: Fred D'Aguiar
Hungary: Zoltan Agoston,
Otto Tolnai, Orsolya Galos
Iran: Mimi Khalvati
Ireland: Ciaran O'Driscoll
Israel: Amir Or
Italy: Daria Bertocchi, Roberto Dedenaro, Jolka Milic
Lithuania: Laima Masyte
Macedonia: Igor Isakovski,
Bogomil Gjuzel
Poland: Ewa Sonnenberg,
Grzegorz Nurek, Roman Honet
Scotland: Angus Calder
Slovenia: Tomaz Salamun,
Iztok Osojnik, Primoz Repar
Slovakia: Stanislava Chrobakova Repar, Peter Sulej, Martin Solotruk
South Africa: Stephen Gray
South Korea: Chung Hee Moon
Sudan: Tarek El Tayeb
Ukraine: Oksana Zabuzhko
Wales: Owen Sheers