Sudeep Sen's [www.sudeepsen.org] prize-winning books include: Postmarked India: New & Selected Poems (HarperCollins), Rain, Aria (A. K. Ramanujan Translation Award), Fractals: New & Selected Poems | Translations 1980-2015 (London Magazine Editions), EroText (Vintage: Penguin Random House), Kaifi Azmi: Poems | Nazms (Bloomsbury) and Anthropocene: Climate Change, Contagion, Consolation (Pippa Rann). He has edited influential anthologies, including: The HarperCollins Book of English Poetry (editor), World English Poetry, and Modern English Poetry by Younger Indians (Sahitya Akademi).  Blue Nude: Ekphrasis & New Poems (Jorge Zalamea International Poetry Prize) and The Whispering Anklets are forthcoming. Sen's works have been translated into over 25 languages. His words have appeared in the Times Literary Supplement, Newsweek, Guardian, Observer, Independent, Telegraph, Financial Times, Herald, Poetry Review, Literary Review, Harvard Review, Hindu, Hindustan Times, Times of India, Indian Express, Outlook, India Today, and broadcast on BBC, PBS, CNN, IBN, NDTV, AIR & Doordarshan. Sen's newer work appears in New Writing 15 (Granta), Language for a New Century (Norton), Leela: An Erotic Play of Verse and Art (Collins), Indian Love Poems (Knopf/Random House/Everyman), Out of Bounds (Bloodaxe), Initiate: Oxford New Writing (Blackwell), and Name me a Word (Yale). He is the editorial director of AARK ARTS, editor of Atlas, and currently the inaugural artist-in-residence at the Museo Camera (India); and visiting fellow & writer/artist-in-residence at the Nirox Foundation (South Africa) [www.niroxarts.com]. Sen is the first Asian honoured to deliver the Derek Walcott Lecture and read at the Nobel Laureate Festival.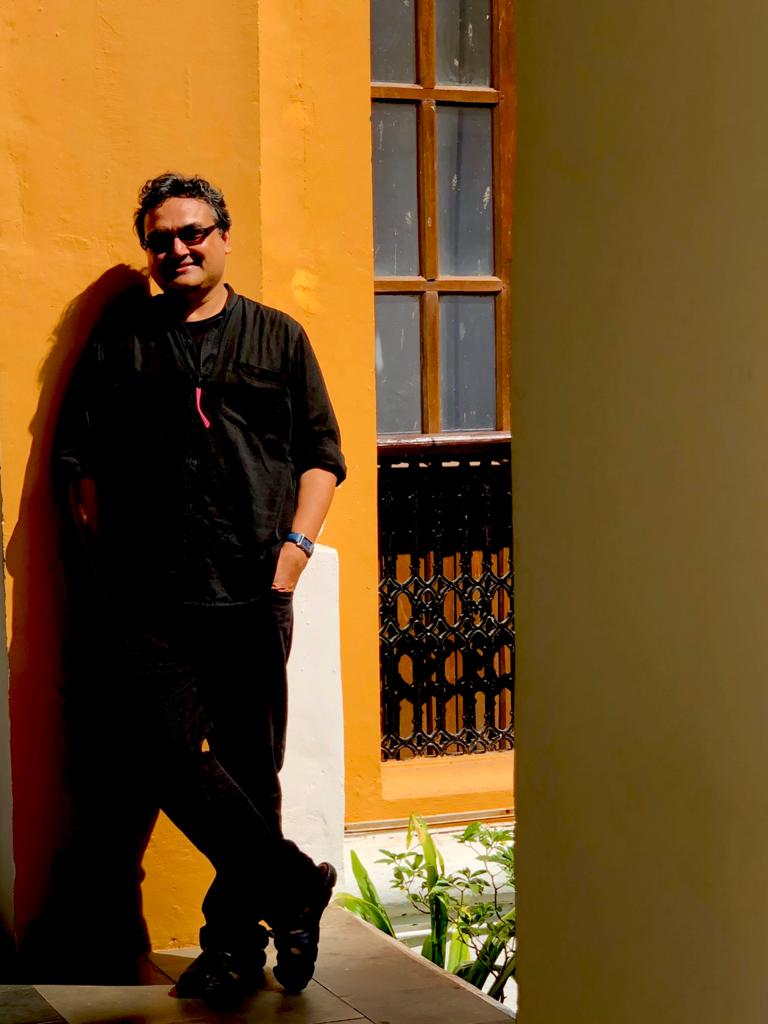 Sudeep Sen is a shining star in India's poetic firmament.
Sudeep Sen's poems are a present which bring — like all true poetry — so much companionship.
'A fine contemporary voice whose work is simultaneously urgent, intelligent, innovative, crafted and lyrical.'
'One of international poetry's guiding stars.'
 PAUL COOPER in New Welsh Review
[On EroText] Lo, Anais Nin + Henry Miller! #India. Sudeep Sen
 MARGARET ATWOOD on Twitter
'Poised, elegantly constructed poems which provide calm spaces for the reader to inhabit.'
 CAROL ANN DUFFY, former U. K. Poet Laureate
Widely recognized as a leading new generation voice in world literature, Sudeep Sen's ANTHROPOCENE: Climate Change, Contagion, Consolation is a literary and artistic response to the most urgent issues that face humanity now — climate change and the pandemic. He tackles the complexities head-on with honesty and sensitivity, without any compromise. Simultaneously engaging multiple genres — creative non-fiction, essay, prose, poetry and photography — the book interrogates our lives against the backdrop of a dangerously fraught and ever-changing landscape, on the emotional, physical, micro and macro levels.
Amid all the negative noise in the world, here is a quiet artistic offering — a testament to our fervent times where the ever-increasing ravages of climate change scar humanity, where Fascist politics overrides the silence of introspection, where the cleaving schism between the rich and poor becomes ever-widening, where racism peaks at an all time high, where toxicity among people proliferates, and fake news abounds.
"Anthropocene: Climate Change, Contagion, Consolation is an impassioned and heartfelt response to the intersecting planetary crises of our time. It is of the utmost importance that more voices from the global South bear witness to the multiple catastrophes that are now unfolding around us."
"Sudeep Sen has confronted, with essential and moving lyric art, the state of the Earth in the 21st century. Anthropocene is a poet's report from a collapsing biosphere, summoning human courage to alter course. An expansive, urgent, wonderful book."
"A mighty, ambitious work — and it couldn't be more timely. There is a bounty of riches here, the mixed genres working harmoniously together as they enhance the overall argument. The voice carefully steps away from didacticism or rhetoric, finding beauty and grace in its journey across the pages."